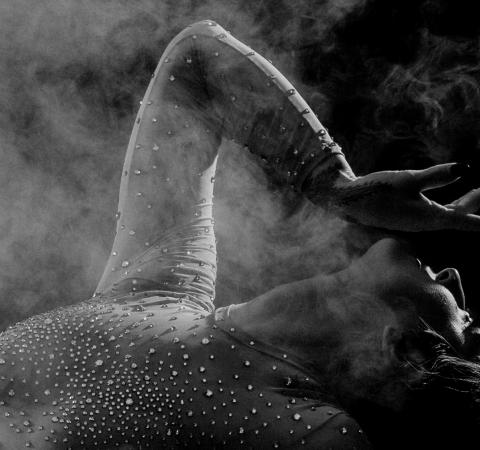 Über Mich
Sylphie is a circus artist from San Francisco, California who is currently based in Berlin.
Originally trained in classical ballet, her fascination with circus arts took root at the San Francisco Circus Center at age 10. There, she trained in multiple disciplines before ultimately specializing in aerial contortion.
Known for her chameleon-like aesthetic and passionate, visual storytelling, Sylphie has performed internationally, both on land and sea.
Her dedication to creative evolution and artistic fulfillment led her to Sala Charivari in Madrid, where she studied hair suspension. A
...Weiterlesen
t present, this discipline is featured largely in her performances as she explores the technique's possibilities.
Referenzen
EXPERIENCE
2020
Present Progressive Events Virtual Show for App D, Germany
Hair Suspension
Cirquempire Cirque du Chateau, Château d'Ermenonville, France
Hair Suspension
Cirquempire Magie de la Forêt, Château d'Ermenonville, France
Hair Suspension
Zum Starken August, Germany
Contortion, Hula Hoops
2019
Berber SF, USA
Contortion
GOP Variete Brodowys Broadway, Germany
Duo Straps
GOP Variete Robinson Club, Austria
Hula Hoops, Duo Straps
Zum Starken August, Germany
Contortion
Cirque Starlight, Switzerland
Hula Hoops, Duo Cube
2018
AIDA Cruises-Luna, Northern Europe & Caribbean
...Weiterlesen

Aerial hoop, Aerial Silks, Bungee, Duo Straps, Duo Cube, Duo Trapeze, Duo Adagio
2017
AIDA Cruises-Perla, Mediterranean
Aerial hoop, Aerial Silks, Hula hoops, Pole, Duo Adagio
2016
AIDA Cruises- Aura, India/UAE &Mediterranean
Hula hoops, Contortion
Wooden Nickel Circus, USA
Hula hoops
2015
Berlin32,USA
Contortion
The Uncle Junior Project, USA
Hula Hoops, Aer