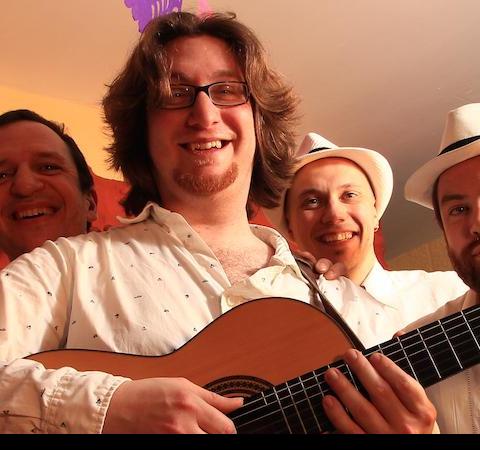 Über Mich
How do you teleport yourself directly onto the dancefloor of a Latin American ballroom without even leaving your hometown? Just by listening to La Mojarra Calavera!
Founded in 2007 in the middle of the night at a lonely bus station in the Mexican countryside, the quintet from Cologne/Germany brings highly danceable caribbean flavour to each and every audience. Both sides of the Atlantic are well represented in this multinational band whose members are of Mexican, Bolivian, German and Latvian origin.
The sound of La Mojarra Calavera is a powerful mixture of traditional Latin American grooves s
...Weiterlesen
uch as Son, Rumba, Cumbia, Merengue, Cha-cha-cha and Bolero. But while their roots lie deep in the rich heritage of traditional latin rhythms, La Mojarra Calavera have developed their own modern interpretation that knows no borders between countries, no frontiers between cultures and no limits between musical styles. That makes La Mojarra Calavera just like a Cuban guajiro (peasant) with sneakers: tradition-conscious, but essentially modern-dressed.

The result is a warm acoustic, guitar- and tres-cubano-based sound where nothing is impossible – except that any leg or foot stay still. La Mojarra Calavera present a wide-ranging selection of their favourite songs from Cuba, Colombia, Mexico, Dominican Republic, Spain and the Latin melting pot of "Nuyork", along with their own compositions. Their EP "Volvió a salir el sol" (The sun has come out again) was published in 2013.